Dylan's radiotherapy journey with Southfields
July 3, 2023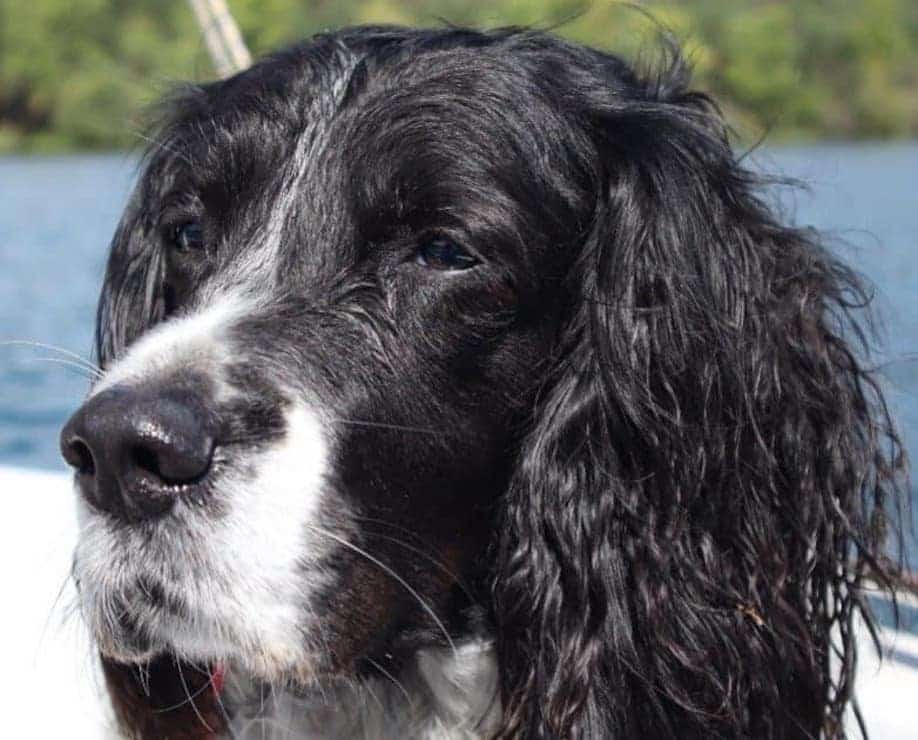 Dylan was initially presented at Southfields Veterinary Specialists in January 2019 for thyroid cancer affecting both his thyroid glands. Both masses were invasive to the surrounding structures (blood vessels and upper airway) and unfortunately surgical resection was not deemed feasible option at that stage.
As surgery was not an option, it was recommended for Dylan to have radiotherapy which is the delivery of high-energy X-rays that delay cancer progression by damaging the DNA of the cancer cells. Dylan subsequently underwent a CT scan to allow our radiation oncologist to immobilise his neck and create a bespoke radiation plan to highlight and better target the tumours and protect the surrounding structures. He had a weekly radiotherapy protocol which was very well tolerated.
In repeated CT scans between 2020 and 2023, we confirmed that thyroid tumours have shrunk partially (compared to the first CT scan) and there has not been any local progression, allowing Dylan to have a very good quality of life without any major complications from his treatment. Unfortunately, recently Dylan developed tumour progression in one of the glands inside his chest.
Unfortunately, Dylan in 2023 developed a spread from his thyroid tumours in one of the glands of his chest. As the glands in the thyroid region were stable in size and the only progression was that gland in his chest, which was invading an adjacent vessel, we decided to treat him with a second round of highly focused and intense stereotactic radiotherapy. In the second picture below you can see part of his computerised plan which was used as a reference to treat his new disease.
Radiotherapy is a very good treatment option for non-resectable thyroid tumours. In a recent study from 2020, it was suggested that even in advanced cases there are severe clinical signs (such as gulping, difficulty swallowing or changes in the bark) in ~80%, there is a clinical improvement seen with radiotherapy after several weeks. Also, in the rare cases that the thyroid tumours are active and overproduce thyroid hormone, treatment with radiotherapy can help in controlling that.
CT scan of the tumours in 2019
Focal area of tumour progression in 2023 treated with stereotactic radiotherapy.
Comment from Mr Choppen:
''When Dylan was initially diagnosed with cancer of the thyroid, by the first specialist vet that we were referred to, we were scared.  It was hard for us to see a positive outcome, especially as surgery was not feasible and we were not given a high hope of success with just drug-based cancer treatments alone. 
Dylan is so important to us that we were determined to find the very best treatment possible, as we would do with any member of our family. 
We are so grateful that we then found Southfields and the treatment that they could offer. All their staff are very professional and caring, and we know he is in the very best care when we give Dylan to them on our 6 monthly visits.
Dylan is still with us 4 years after the initial diagnosis when we were advised that 2 years would be a realistic time frame. He is happy, active and enjoying his life. People we meet cannot believe that he is nearly 12 years old and ill at all!
Dylan still has challenges ahead as unfortunately, Cancer does not give up easily, but we know he is being cared for by the right people in an organisation that has invested in the latest technologies and facilities and has a highly skilled multi-disciplinary team. Above all, we know we are doing the best for Dylan and that he has the best chance possible for the time ahead.''